Polishing Stones
5 Elements to Deciding Quality of Abrasive Stones
The kinds Grains
As a cutter, grains play the main role of for polishing the material to be processed
Grits
The size of the grains
Organization
The rate of the grainsin the abrasive stones.
Bondage Strength
the strength of the bondage to hold grains
The kinds of Bonds
the difference of the bonding material to hold grains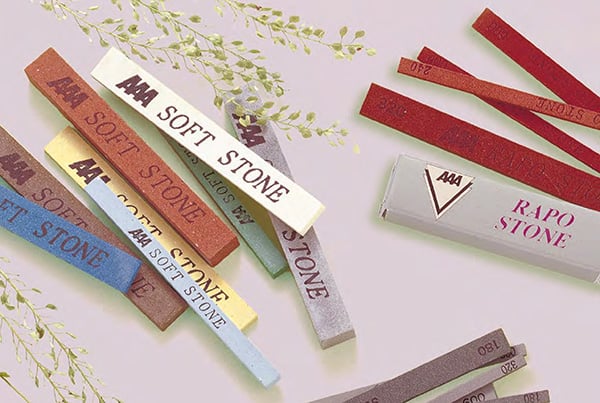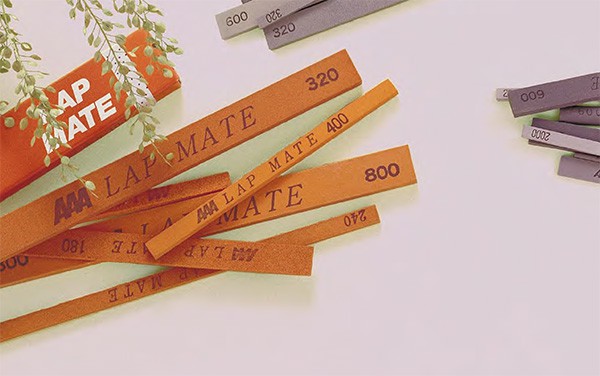 3 Elements, Grain, Bondage and Holes, consisting abrasive stones and secondary processing
1. Grains
kinds of grains melted aluminum grains carbonized silicon size of grains (grits) quantity of grains (organization)
2. Bondage kinds
of bondage vitrified, resinoid and etc. quantity of bondage (bonding strenght) soft medium strong etc.
3. Holes
kinds of holes ventilated holes non-ventilated holes quantity of holes porous holes abrasive stones no holes abrasive stones
Secondary processing Filling materials Additives
Filling materials and additives are mixed in Processing materials abrasive stones other than processing materials, such as sulfur for filling holes, and bondage.
STONING OIL
The role of the stoning oil is significantly important for the stick type Abrasive stone.
"FLASH 600"
Flash 600 is originally developed by 3A-Sangyo
FLASH 600 strengthen the polishing power of the grains, reduce the abrasion of grains, cool down the friction heat and give the stones long life. FLASH 600 protect work pieces from scratches by washing away polished wastes and felled down grains, keep new edge constantly and prevent the holes from clogging and crushing. FLASH 600 maximize the sharpness and give the longest life for whetstones. FLASH600 is gentle for human skin of the hands and legs. *There are some stones and some cases which don't need stoning oil. Ask our salespersons on details.
STONE HOLDERS
Manufactured Based Upon Ideas Born In Factories "NEW HOLDERS" – Promoting the productivity of workers by protecting stones from destruction of their edges
Mold are safe from damage due to this holder's soft plastic structure
Stones are not to be dragged because of NEW HOLDERS unique structure to keep a sure clamping.
The holding touch for the hand is very soft, giving little fatigue for the workers.
Polishing Stones
LAP MATE
Application : Surface lapping after EDM Processing for general mold
Features : The Lap Mate is manufactured for keeping new blade constantley with minimum bonds and maximum density of grains to prevent from falling out. Due to our special processed resin, the form of the edge lasts long and can be used for detail finishing as well as rough and medium finishing.